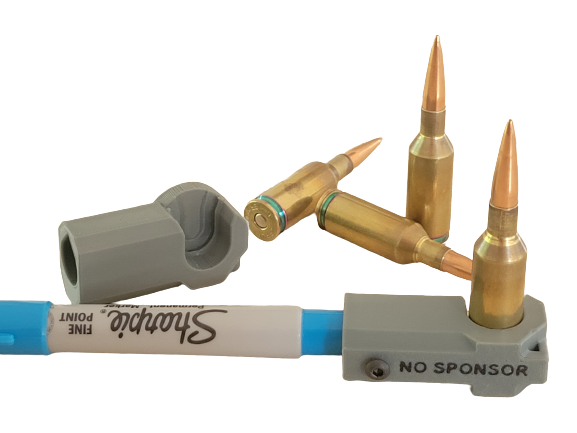 Reliable Identification Marker Made Easy (RIMME) *Free shipping in Canada
Regular price $12.00 Sale
The cheapest tool to prevent other shooters from stealing your brass! 
Compatible with standard size sharpies, the Brass Marker Slim makes it simple, quick and easy to mark your casings. The pen is secured with a screw located at the back of the device. Its eyelet allows it to be on a keychain or to install an indicator to find it easily.
*Free shipping in Canada
____________________________________________________________________
L'outil le plus économique pour empêcher les autres tireurs de voler vos douilles! 
Compatible avec les sharpies standards, le brass marker slim permet de marquer les douilles simplement, rapidement et facilement. Le crayon se sécurise avec une vis située à l'arrière. Son œillet permet de l'avoir sur un porte clé ou d'y installer un indicateur pour le retrouver facilement.
*Expédition gratuite au Canada